Conversations with Leaders:  Provost Peter Stearns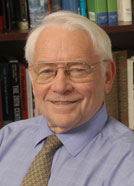 As part of the ongoing "Conversation with Leaders" series sponsored by MasonLeads, George Mason University provost Peter Stearns will share his perspectives on leadership on Tuesday, April 22, from noon to 1:30 p.m. in Tier III of the Center for the Arts on the Fairfax Campus.
Stearns has served as provost and professor of history at George Mason since 2000. The author or editor of more than 120 books, he has published widely in modern social history, including the history of emotions, and in world history.
As provost, Stearns has worked to expand Mason's research capacities, to add or enhance centers of strength such as the arts, biomedical research and education, and public health, and to increase the global activities and educational goals of the university. He will step down from his position as provost and return to full-time teaching in July.
At the end of his talk, there will be time for questions and answers from audience members. The program will begin promptly at noon. Hors d'oeuvres and beverages will be served; RSVP by April 17 at 5 p.m. if you plan to attend.
The "Conversations with Leaders" series reflects MasonLeads' mission: to inspire the development, emergence and recognition of leadership throughout the Mason community by raising campuswide awareness of leadership opportunities, encouraging student, faculty and staff participation in leadership development, forming a cross-disciplinary community of leadership scholars at Mason, celebrating acts of leadership throughout the Mason community, and building a culture that values leadership at all levels of the institution.